French Novelist George Sand once said, "There is only one happiness in this life, to love and be loved." For bride Ericka Diehl and groom Derek Bendetti this quote could not speak true enough. It was clear from the start of the day, that both found their happiness in each other. Not even the rainy weather could take away that happiness. While watching the happy couple throughout the day, it was incredibly mesmerizing to see them fall in love more and more. There was not a single moment they took their eyes off of one another. Both Ericka and Derek were lost in the world of love and happiness.
Together, Ericka and Derek are strong. As most couples fear the idea of it raining on their wedding day these two took it on as a challenge and worked through it. Their smiles never wavered and we were able to capture some of the most beautiful outdoor and indoor portrait photography. The entire day came together in exquisite fashion and everyone that night left full of joy. It was a beautiful sight to behold and we were privileged to have been able to capture such an amazing wedding day.
We began our morning at The Inn at Reading where Ericka and her bridal party were preparing for her big day. Our time was very limited and tensions were definitely high as we needed to get many key photos done in a short amount of time. Ericka was feeling the pressure, but never buckled under it. She showed throughout the day how to be a confident bride.
Speaking of confidence, look at how beautiful she looked in this amazing wedding dress!
Ericka's bridesmaids were nothing short of spectacular. They were there for Ericka from start to finish, always by her side when they were called upon.
This church was absolutely stunning. Great architecture always makes the photographs even more beautiful.
We have had a lot of bubble exits this season, but did not have one of this day. Instead, everyone was handed confetti poppers and the result was pretty cool.
This photo is just picture perfect. Ericka and Derek were such a stunning couple and it was really hard to keep your eyes off of them. I really had a blast with many of their poses.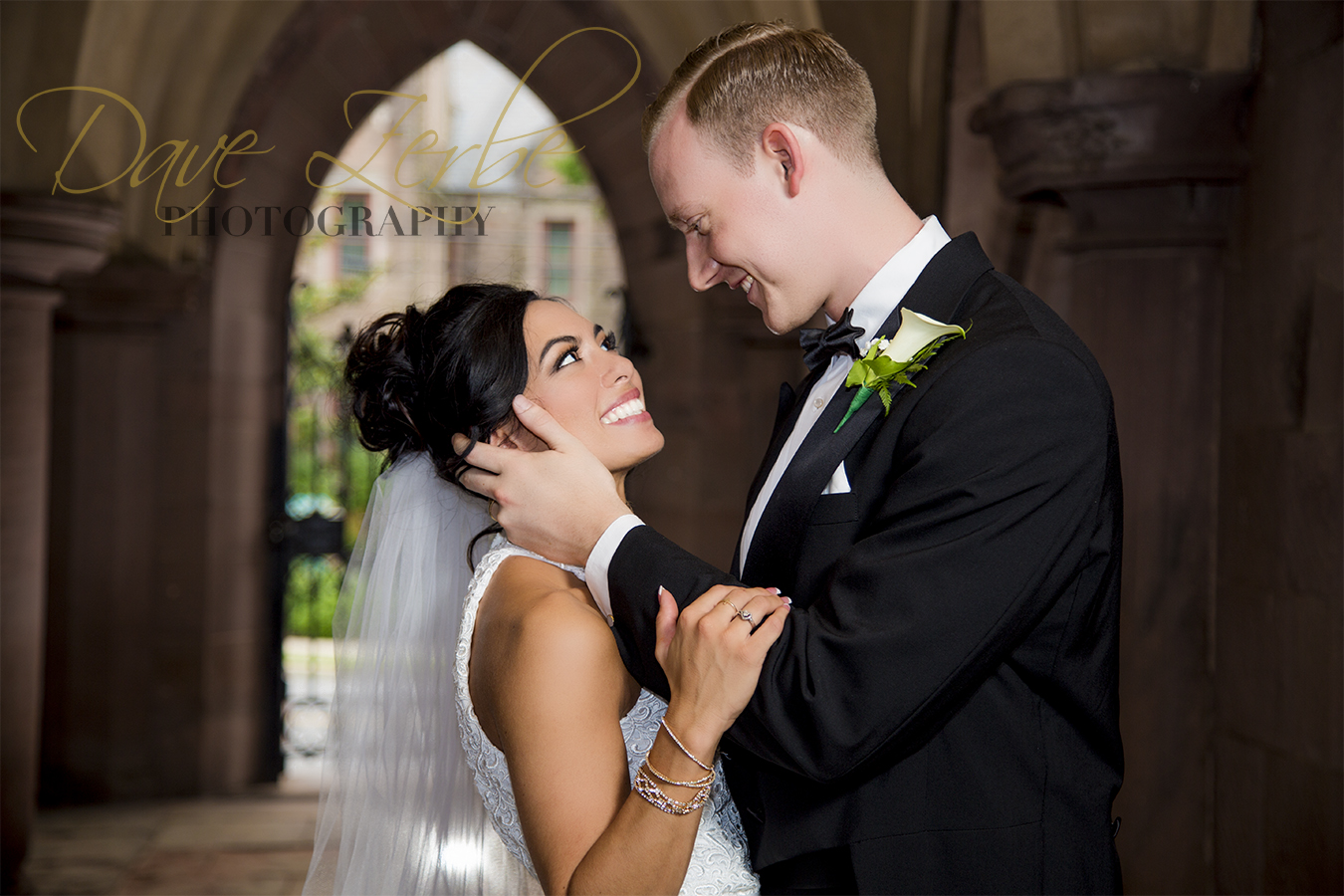 You wouldn't know it from this photo, but it was raining steadily during this portion of our outdoor photographs. Ericka and Derek were troopers through this whole ordeal and we worked with them to get some amazing photographs in some subpar weather circumstances.
Girls just want to have fun!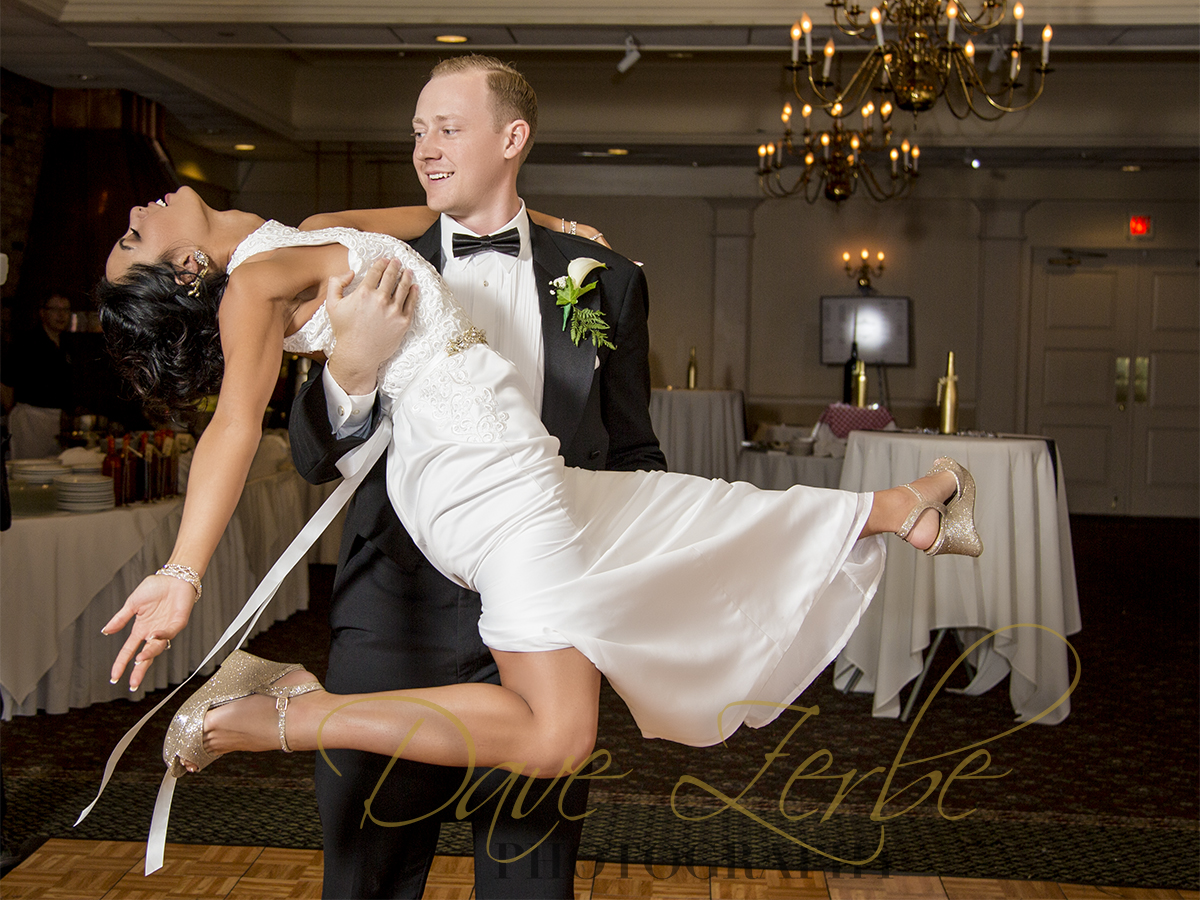 Their first dance together was just pure beauty. We don't always get to see such stunning footwork during a first dance, but this couple literally stole the show on that dance floor. It was truly amazing to me how perfect this dance was. It set the tone for an amazing reception.
The "&" has really never worked for me before until this evening. Most of the time, the husband's wedding band is just too big and doesn't fit. Here though, I was able to make it work for this great ring shot.
One of the most interesting cakes I have ever seen at a wedding, it looked really yummy! The cupcakes (desserts for all of the guests) were a really nice touch as well.
One of the most interesting bouquet catches I have ever been able to capture.
Once dinner was over, the dance floor opened up and was filled throughout the night. The DJ was on top of his game and did a great job playing the right music at the right time. Everyone was enjoying theirselves including Ericka and Derek who were shredding up the dance floor all night!
It was a beautiful wedding for Ericka and Derek. Though we battled the rain throughout the late afternoon, our wedding couple did everything they could to get every photo they wanted. It was a true pleasure getting to work with these two and their families. We definitely look forward to working with them again in the future.
---
Photographers:
Lead Photographer: WAYNE BECKER
Lead Photographer: CHAD ZERBE
Photojournalist: KAYLIE VRABEL