Your experience is what matters most.
Our responsibilities as your wedding photographer stretch far beyond capturing beautiful images on your wedding day.
We strive to make your wedding experience as effortless and enjoyable as possible from the moment you book to the final delivery of you custom designed wedding album from Queensberry. Find out what makes your Dave Zerbe Photography wedding experience special.
Booking and Planning:
Upon inquiry, we'll set up a time for us to sit down via facetime, phone or in-person for a free wedding consultation. There we'll go over our brand while finding out more about you and your partners story. At Dave Zerbe Photography we understand that the day truly belongs to the bride and groom and we want to know what you two are all about! Every wedding is different and unique–there is a rhythm to discover and follow. There are intense moments of love, beauty, and elegance–also little unexpected moments of emotion and joy–and we are here to provide you with the wedding photography that can capture those moments forever.
Engagement Session:
Once you have decided to book with us, the Dave Zerbe Photography experience begins! After working together to choose an amazing location and outfits, we will spend about an hour together to shoot your engagement photos. During this session, we will focus on getting to know your photographic style and what you and your partner like to do together as a couple. We will coach you through posing while finding out which poses work with your style. This is a time for us to get to know one another, get you both comfortable in front of the camera with no stress, and also comfortable working with us.
This session allows us to give you photo options for your wedding day signature portrait as well as your guest gift wallets. We also offer save-the-dates and invitations which at this time in the process are important.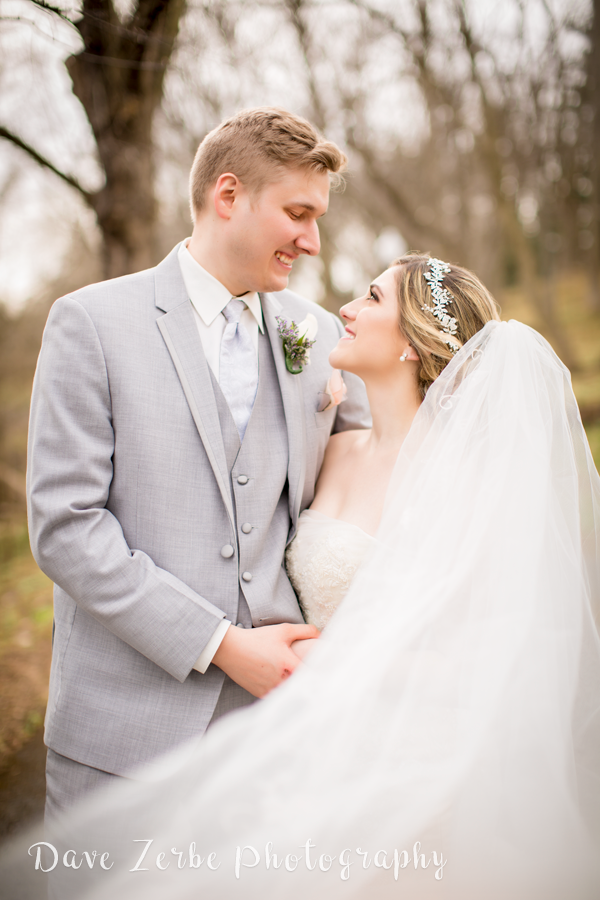 Final Consultation:
In the final months leading to your wedding day, we will be available to help with anything and everything you need – vendor recommendations, timeline preparation, planning suggestions and more. When we are just a few weeks out, we will plan a final consult to finalize your wedding timelines and answer any last-minute questions. That way you can wake up on your wedding day with the peace of mind that this day will be all about marrying your soulmate.
Wedding Day:
It's your big day!! Our goal on your wedding day is to ensure that it is a fun, easy and stress-free as possible. We will be there to capture every moment from beginning to end, so that you have memories to last a lifetime to come.
Image Reveal:
You can expect to come in to the studio for the reveal of your finished online gallery approximately three weeks after your wedding. The online gallery showcases all of your awesome wedding photographs so that you can view, share, and order the images. We take you through all of your wedding images and show you how to use the online gallery. After this appointment, your gallery will be available to all of your wedding guests so that they can view the images as well.
Album Design:
Depending on the package you chose, we'll begin the design of your elegant Queensberry coffee table book or album. We will work together to create an album that is exactly what you imagined it to be. Once you have finalized your design, we will order you book and let you know when we receive it.
Wedding Collections
Includes Essential Collection
Includes Custom Snapchat Filter
$750 Printing Credit
14"x10" Queensberry Heritage Album (with 75 images)
Two 10" x 7" Copy Albums
All Digital Media Files on USB
All Print Media from Album on USB
Save-The-Dates
Exclusive Client Print Pricing for Everyone
Includes Essential Collection
Includes Custom Snapchat Filter
50" Signature Portrait
$500 Printing Credit
10"x7" Queensberry Modern Album (with 60 images)
400 Digital Media Files on USB
All Print Media from Album on USB
Exclusive Client Print Pricing for Everyone
Includes Essential Collection
40" Signature Portrait
Wedding Day Custom Snapchat Filter
$300 Printing Credit
10"x7" Queensberry Coffee Table Book (with 50 images)
200 Digital Media Files on USB
All Print Media from Album on USB
Referred Client Print Pricing for Bride & Groom
Client Thank-You Bag
"Get to Know You" Photo Session
Wedding Day Guest Gift Wallets
or
Thank-You Card with Gallery Access
Pre-Wedding Concierge Service
Full Day Wedding Coverage
Two Photographers
Wedding Day Survival Kit
Private Online Image Gallery
Add-Ons
$200 Printing Credit
or
100 Digital Media Files on USB
Please fill out the below form to schedule a free wedding consultation with us.
We are the preferred photography vendor at the following venues!
---
We provide this amazing wedding photography experience in and around Lancaster PA, Exeter PA, Wyomissing PA, Philadelphia PA, Allentown PA, and the Greater Reading Area.