Wind is a tough weather event to combat during a wedding day. You can do only so much to mitigate the situation. Confidence is key in these times, but one silver lining is when you have a couple as amazing as Olivia and Matt. I've had high anticipation for this day for so long and I was confident that no amount of wind was going to hinder us from capturing beautiful photography.
Chad and I arrived at Stokesay Castle excited for the day to begin. We decided to split up as both Olivia and Matt were getting ready at the same time. They were both eagerly awaiting their first look which was soon about to take place.
I began by photographing some important details including a stunning photo of Olivia's wedding gown. These details are always a point of emphasis for myself as we begin the day.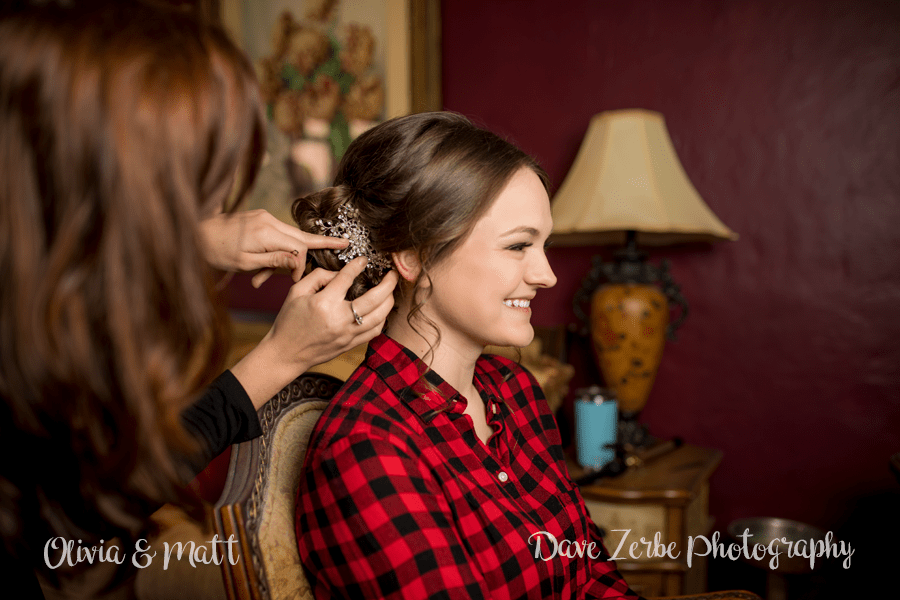 As Olivia finished up her hair and makeup, you could sense the excitement in the room. Her smile would only grow wider as the day continued.
Before long, it was time for Olivia to get into her dress. Her sister was the obvious choice for this moment. The two joked with each other the entire keeping the mood light.
Before the first look, I decided to do some portraits of our bride inside the Stokesay bridal suite. I also gave her the first look at her perfectly made wedding bouquet which was a fun moment to capture on camera.
Over with the groomsmen, Chad had a good morning capturing the guys' preparations. Matt is a calm person who was absolutely excited to marry the woman of his dreams.
This whole wedding had a fairytale-like feel to it. I tried throughout the day to express the feelings I had. One image that speaks this feeling is this image of Olivia just before her first look with Matt.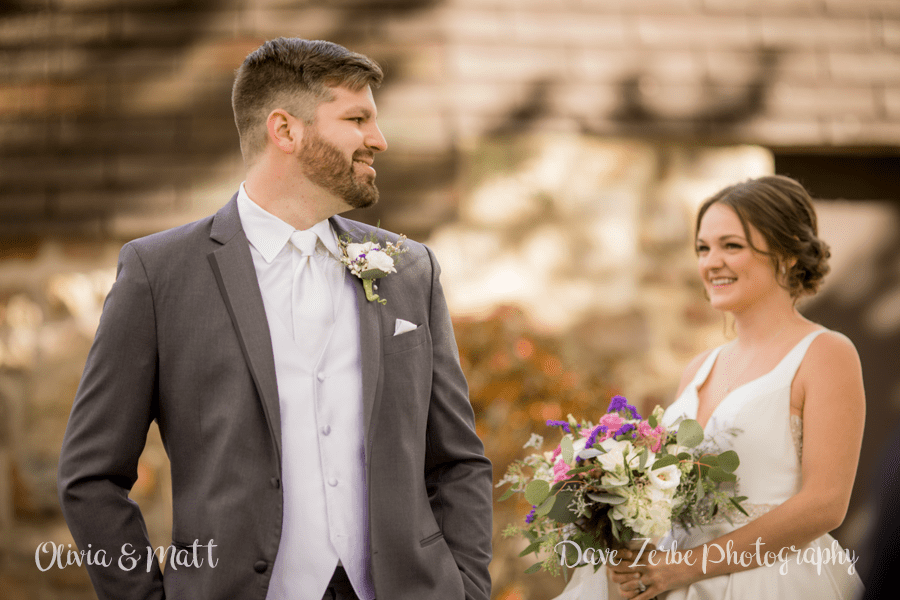 We decided to do their first look in front of Stokesay Castle. Their excitement for this moment culminated in a beautiful experience together.
The best description I can use for Olivia and Matt is delightful. This couple is just super cute to witness as they interact with each other. We loved every single moment working them throughout their wedding day.
Another amazing image that showcases the amazing dream of a day this was.
When they told me they wanted a photo with their puppy Lincoln, how could I say no!?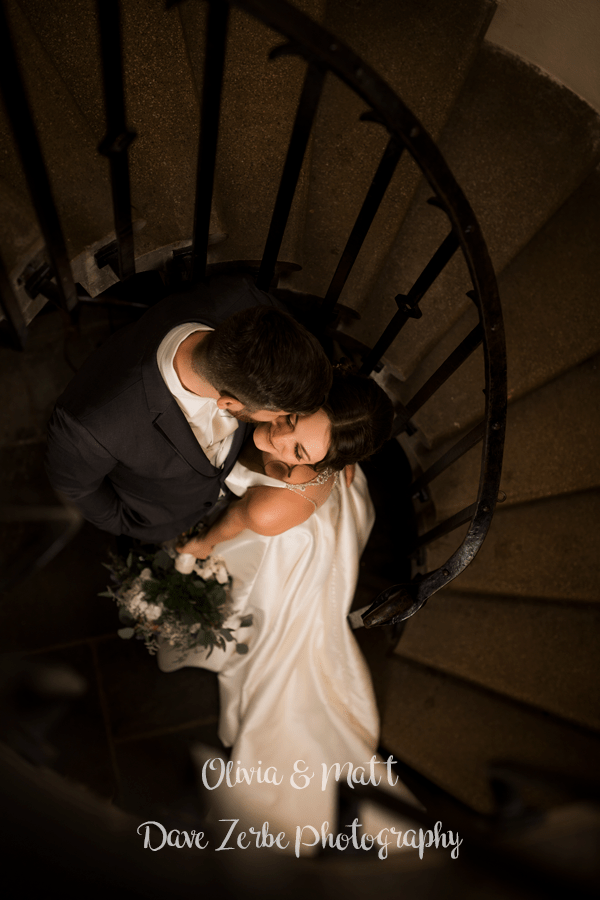 I had this idea earlier in the morning to use the spiral staircase located in the bridal suite. There are many times throughout a wedding day where I will make a mental note of an idea for later. I was not disappointed with the result!
To finish with our portraits, I took Olivia and Matt around the grounds of Stokesay capturing many different photographs.
Family portraits followed with a difficult back light that forced us to change angles until we were satisfied. Due to the time of the day, the sun had dipped enough that we were forced to photograph around it. The results came out as good as it could have!
The girls wanted a fun image at the bar and I couldn't resist making it cool! (Special thanks to the staff at Stokesay for the assist).
The ceremony finally began late in the afternoon. That dreamy feel continued as the sun brought beautiful color to our background. The entire event was truly magnificent to witness with so many smiles and laughs.
As they walked back up the aisle, you could see their happiness to finally being married!
I've been wanting to do a bridal party photo in front of the fire-pit for some time. Thankfully we had a perfect opportunity with this fun group of people!
Olivia had requested a sunset photo during our pre-wedding consultation and I knew after the ceremony would have been the best opportunity. The sun had dipped to the perfect height and our newly married couples' love shined bright.
Before we knew it, it was reception time! Olivia and Matt entered into a serenade by a recording from Philadelphia Eagles radio announcer Merrill Reese (who I had found out before the wedding does a lot of these custom wedding entrances). This was one of the coolest wedding entrances I've ever witnessed!
As they started their first dance, their fairytale day grew into something from a dream. Stokesay Castle was perfectly decorated for this wedding helping us immensely when composing our images. It helped a lot that Olivia and Matt were having the time of their lives.
Speaking of having the time of their lives, Olivia's father next danced with his daughter and swung her around the dance floor in one of my favorite moments from the entire day. This was followed by an emotionally charged dance between Matt and his mother.
After dinner it was time to cut the cake! As the last formal event of the evening, Olivia and Matt made sure to keep things nice and calm as they cautiously fed cake to each other.
The rest of the night was filled with dancing. Rick Bean from B&B Light and Sound played the right music all night!
I was extremely excited to do a nighttime photo with Olivia and Matt because I knew Olivia really wanted to do something special. I decided to revisit the fountain photo I had done recently with a different approach in mind.
To finish with Olivia and Matt, we went over to the fire where I photographed a few images using flash. I decided to give natural light a chance and was amazed with the results.
We are super thankful to Olivia and Matt for their true hospitality. As someone who always strives to build a strong bond with his clients, I will call these clients my friends.
---
Photographers:
Wayne Becker
Chad Zerbe
Written By:
Wayne Becker
Edited By:
Alexis Jenofsky / Lani Panico