Last year, I photographed one of my favorite engagement sessions ever with Angela DeAngelo and Jonathan Erkert. It took place at the Santander Performing Arts Center, which was the perfect place for this couple. The session showed me just how much fun this couple was to photograph, so I excitedly went into the wedding day with high hopes and expectations.
I have never met a bride more prepared for her wedding day than Angela DeAngelo. During the months leading up to the wedding, she would regularly reach out to keep all of her vendors in the same loop. This preparation helped me to not only prepare everything I need, but allowed me to communicate with the bride and her team more effectively.
The team of professional vendors was one of the best I've seen, which ultimately helped the event go by very smoothly. The all-stars include:
DJ: B&B Light and Sound
Cake: Nicole Smith
Flowers: Rich Mar Florists
Hair & Makeup: United Artists Salon & Spa
Coordination/ Planning: Leo Design Gallery
Reception Venue: Blue Event Center
Thank you to all of these wonderful people for putting together a perfect wedding day!
When the day arrived, it was time for myself and my fellow vendors to get to work. Our day began at the Courtyard by Marriott in Bethlehem. Upon our arrival, Angela was getting her hair and makeup done by United Artists. They did an amazing job at giving Angela the perfect look for her big day.
As she was getting ready, you could tell that Angela had a background in theatre. Amidst all the faces she was making and jokes that were cracked, we had a great time getting ready for the celebration to begin.
Meanwhile, my other photographer, Tami, went to meet with the groom and his groomspeople in Jonathan's suite. They were all having so much fun telling stories and keeping Jonathan's spirits high. His spirits were so high, in fact, that Tami noted she had never seen a groom be more excited during her time as a wedding photographer.
Back in the bridal suite, it was time for Angela to put on her Kleinfeld's wedding dress. This elegant dress was the perfect fit for Angela, showcasing her outgoing and warming personality.
Jeanette, Angela's mother, was her matron of honor. As she helped Angela finish the final touches of her dress, you could feel the love and happiness between the two.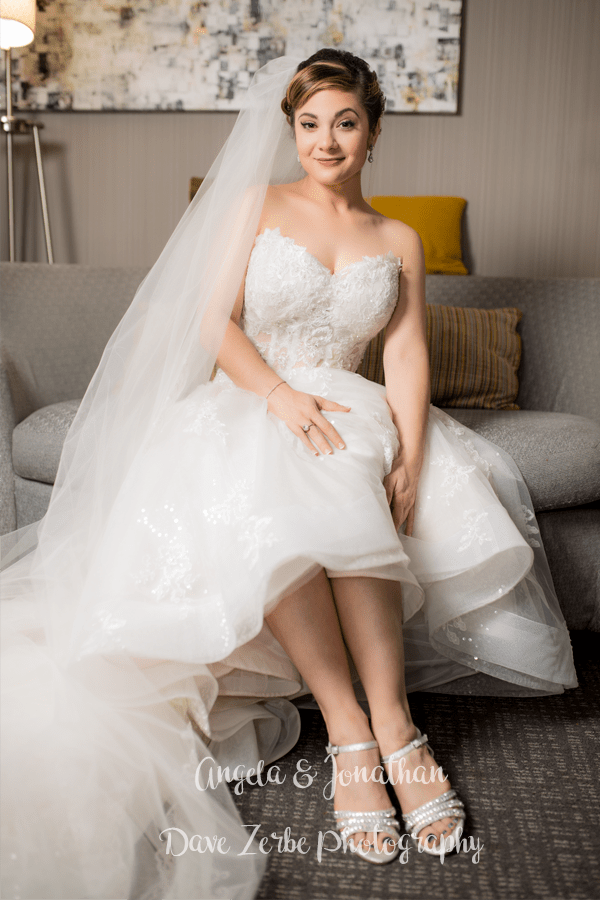 Then it was time for a few bridal portraits, which were lots of fun to photograph as Angela showed some of her modeling skills!
We met back up with Jonathan at Muhlenburg College's Egner Chapel, the site of the ceremony, to photograph some portraits before the wedding.
The ceremony was a truly elegant, emotional, and beautiful experience. In my opinion, the photos tell the story of their love for each other.
One of the most entertaining moments during the ceremony happened when the pastor asked if anyone objects to their marriage… Angela and Jonathan acted accordingly.
Following their "I-Do"s, our newly married couple exited the church to a roar of a cheer from their 200 wedding guests. The many bubbles that flew around the happy couple set a gorgeous scene for some quick photos.
Before we could head over to Blue Event Center for the reception, we went back into the chapel to take some formal portraits of the married couple and their party. The portraits with the party were a lot of fun and captured some awesome personality. Even though the cold kept us inside for the photos, we all still had a great time and got some creative and unique shots.
Throughout the day, I had tried a technique of using magmod grids to help control our mounted flashes. My goal was to create a "spotlight" and the result couldn't have been better. The use of this technique really complimented Angela and Jonathan's theatrical style!
We decided in a last-minute attempt to try to do a few portraits outside before we left for the reception. The sunset at Muhlenburg College was a perfect background to this couples' love. We rushed the process and still captured some truly stunning photographs.Then it was time for us to be on our way.
As we arrived at Blue Event Center for the reception, Jonathan was getting pampered for his big entrance.
Before long, the reception began inside Blue Event Center's reception hall. Angela and Jonathan ate up their crowd's loud cheers as they entered.
Their first dance as husband and wife was purely a romantic moment between the two. As they progressed through the dance, it was as if they were the only two people in the room.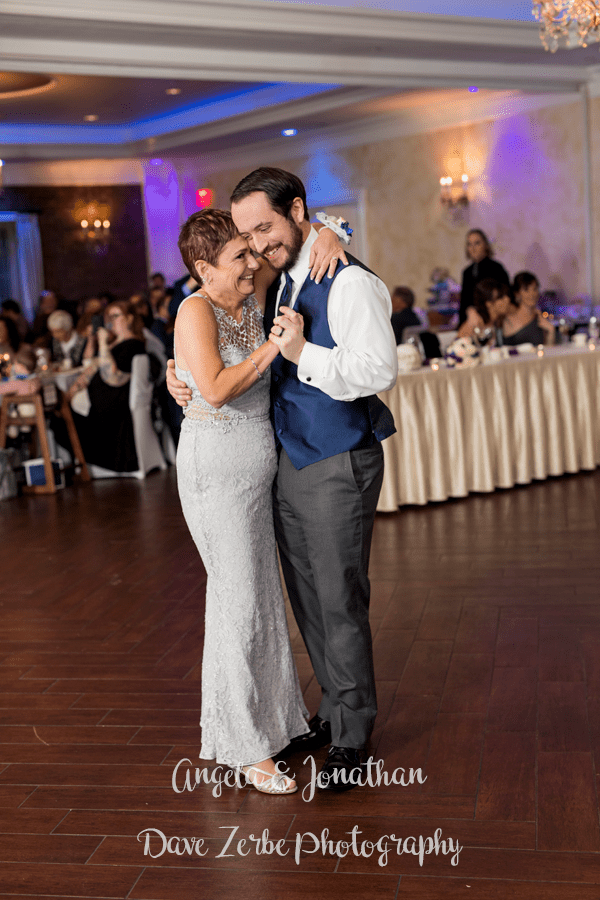 The rest of the night was a pure joy to be a part of. The couple's happiness only continued to grow as the celebration blossomed.
I always enjoy a change of pace during a reception. For Angela and Jonathan, their change of pace was a "first fast dance" as husband of wife.
At the end of the evening, I expressed my gratitude to Angela and Jonathan for having an absolutely picture perfect day. Thanks to the amazing vendors and Angela's flawless planning skills, everything went amazingly well on this lovely couple's big day.
---
Photographers:
Wayne Becker
Tami Bennecoff
Written By:
Wayne Becker
Edited By:
Lani Panico