On the day of Camille and Matt's wedding at Stokesay Castle, Tami and I went off separately to take some solo portraits of the bride and groom right away. As she took photos of Matt, I was in the bridal suite with Camille. I could sense the excitement on her face immediately. She was thrilled to take photos, get the day started, and exchange vows with her soon-to-be husband.
As Camille added the final touches to her bridal look, she caught a look at herself in the mirror and started shedding a few tears. It was a beautiful moment to see her cry of joy as she got ready to see Matt for the first time on their wedding day.
Back in Matt's room, Tami could sense the groom's eagerness as he hurriedly got ready for his first look with Camille. It was endearing to see his love for her in this moment and throughout the rest of the day.
One of the most heartwarming moments of the day took place when Camille pulled out a letter from Matt before the first look. The couple wrote letters to each other before the big day and exchanged them to read simultaneously before the ceremony.
Their first look took place in front of Stokesay Castle's popular fountain. When it comes to setting up first looks, I'm a huge advocate of having the groom turn around as the bride walks up behind him. This is always a wonderful moment, and theirs did not disappoint.
Because of the first look, we were able to take our time walking around the beautiful grounds of Stokesay Castle. One thing I love about this venue is its plethora of backgrounds. There are so many places we can go to create absolutely perfect scenes. We were able to get some stunning shots of the couple before heading back to the ceremony space.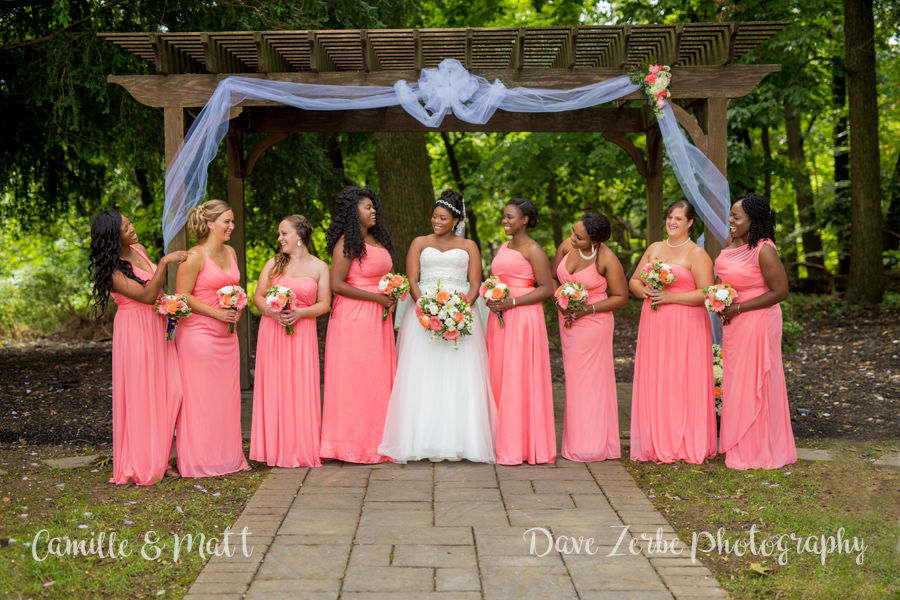 Camille and Matt's wedding party was filled with great friends who helped make the day special.
The couple's ceremony was a beautiful representation of Camille and Matt's love for each other. After a sand ceremony, the couple was officially married and cheer erupted from their guests.
After a brief cocktail hour, the couple's reception began inside the ballroom. After the entered, they went straight into their first dance as husband and wife. The two danced with huge smiles on their faces the entire time.
One of the most playful moments I was able to capture took place before dinner, as Sean from Party Express DJs placed Matt's hands over Camille's and explained that this would be the last time Matt would ever have the upper hand.
As the night progressed, the smiles on Matt and Camille's faces never disappeared. They did dances with their parents, the cake cutting, and garter/ bouquet tosses, and their joy remained constant. It was a pure amazing to see how happy these two were.
At the end of the evening, we took Camille and Matt outside of Stokesay and did two separate night photos. Both were great examples of how to create interesting night photography and we were very excited with the results!
We had a great day with Camille and Matt and we look forward to working with them more in the future.
---
Photographers:
Wayne Becker
Tami Bennecoff
Written By:
Wayne Becker
Edited By: 
Lani Panico