When we first met Brittanie Sterley and Corey Miller we were graced with their laidback attitude and their adorable, energized black pug Tuuka! As we got to know them even more, we witnessed the incredible connection they had for each other and throughout the couple's wedding day, the connection only grew more.
We began the day of August 5th at The Barn at Flying Hills with the "I DO CREW". Brittanie and her girls were ready to get things started and looked really fashionable in their custom shirts.
It is very important to us to capture as many details as possible during your wedding day. The wedding bands are definitely one of those details.
Brittanie's dress fit her like a glove! She glowed with beauty and confidence throughout the day.
Not to be outdone, Corey was quite dapper in his tuxedo. He was very positive about the day and expressed nothing but excitement to get married to the woman he loved.
The couple made the choice to do a "first look" before the ceremony. These are our favorite moments and for the couple one of the most emotional moments of their special day.
For our early formal photographs, we stayed closed to the ceremony site since we had limited time. The Barn at Flying Hills was such a beautiful venue to capture such wonderful photographs.
The ceremony was held outside and the sun was quite unforgiving. When it comes to summer weddings, it is sometimes better to have an early evening ceremony so that the sun isn't as strong. This not only saves you from sweating, it also saves your guests also.
After their ceremony, we went out onto Flying Hills Golf Course to capture a few formal photographs with the bride and groom. Brittanie and Corey were eager to get right to their reception, but realized they would regret not having as many formal photographs as possible. We were able to capture some absolutely beautiful moments.
As the reception began, it was quite distinct how keen they both were to finally be married. In this photo, Corey's smile is a true representation of the smile we continued to see grow throughout the day.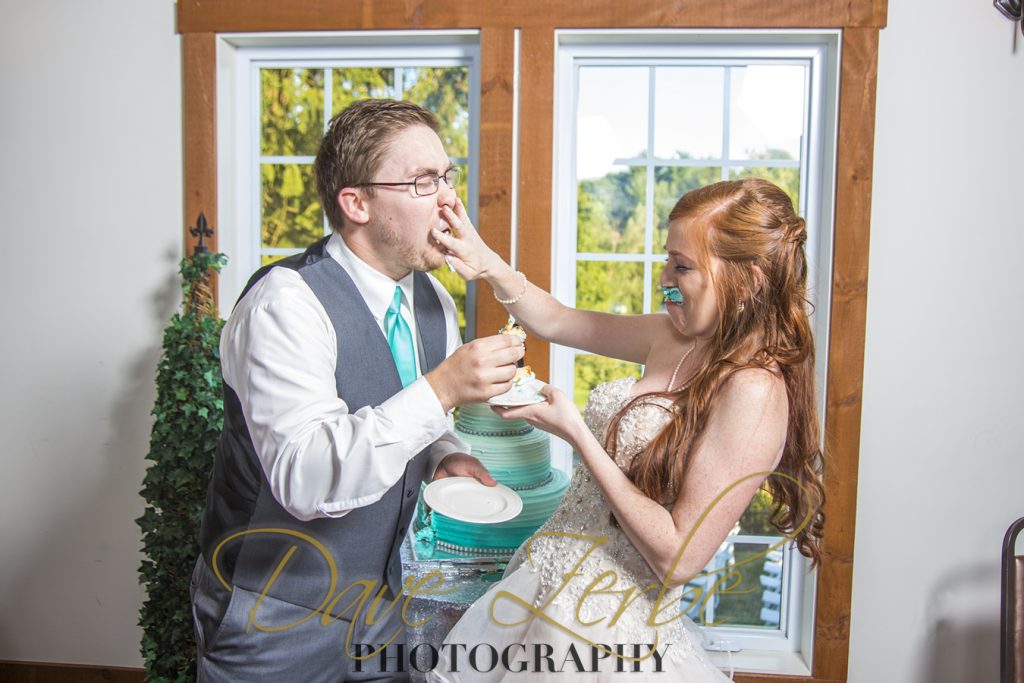 Here is a PSA to all men getting married in the near future. If you plan on smashing your future wife in the face with the wedding cake, always expect retaliation.
Now a days, many wedding traditions such as the removal of the garter and bouquet toss are becoming less and less common. We notice this is trend more apparent in younger wedding couples. To our surprise though, this was not the case with Brittanie and Corey who took part in almost all of the normal wedding reception traditions.
At the end of the evening, we took our couple outside for a nighttime photo that Brittanie was especially excited for. With the night sky and the moon as our background we had Corey dip his lovely bride. It was an enjoyable moment between the two and we captured a breathtaking photograph.
We sincerely enjoyed spending out day with Brittanie and Corey celebrating their special day at The Barn at Flying Hills. We had a lot of fun working with the couple and their families. We look forward to working again with them in the future.
---
Photographers:
Head Photographer: Wayne Becker
Second Photographer: Bonita Zerbe