On September 23rd we had the pleasure to attend the wedding of Denise Hoxter and Ryan Beach. Our day began at the Home2 Suites in Downingtown, where both Denise and Ryan were preparing for their big day.
Denise was very eager to get the day started and was thrilled about all of the photo possibilities especially because she was wearing such a stunning wedding gown.
Ryan on the other hand was relaxed. He was looking very stylish in his "Groom" sunglasses. His calm demeanor was present throughout the day's festivities.
Once the lovely couple were ready, we made our way over to White Chimneys, where we were greeted by an absolutely gorgeous setting. Built in the 1800s, this remodeled tobacco farm was a perfect backdrop for the wedding day.
We started by photographing a few photos with the groomsmen. These guys looked dapper and served as Ryan's hype men throughout the entire day!
Denise was definitely feeling the emotions by this point in the day. She was quite anxious to see her husband for their "first look". We decided to find a location and give our bride and groom the moment they've been waiting for all day.
Denise was keen on getting certain photos throughout the day, but didn't expect to get this one. We had the perfect opportunity to capture this brilliant image of Denise behind Ryan and boy did it turn out beautifully.
"First Looks" are extremely intimate moments between the bride and groom as it gives the two a chance to see each other for the first time in a private setting. The moment is always emotional for everyone involved and we love them.
When choosing your bridal party, always pick the women who make you the happiest. It was very obvious how happy Denise was when hanging out with her girls throughout the day.
After the first look, we moved on to photographing the formals with the bride and groom. This was our chance to get every photo that Denise wanted before the ceremony and leave plenty of time for her to get right to the reception.
It's fantastic how happy the couple makes one another. Throughout the entire time we were taking formals, the two would just break out into laughter about something. We had plenty of moments where we just placed them in a location, and let them do whatever came natural. It really made from some superb romantic photography.
Sun flares are interesting, but sun aberrations can make for a unique photo that is timeless. This photo is a fantastic look that gives the bride and groom a beautiful silhouette.
We could not have asked for a more beautiful ceremony. The connection shared between Denise and Ryan in this moment was unexplainable.
The reception was filled with moving moments. From their first dance, to the end of the night, there were a plethora of moments that brought tears to your eyes.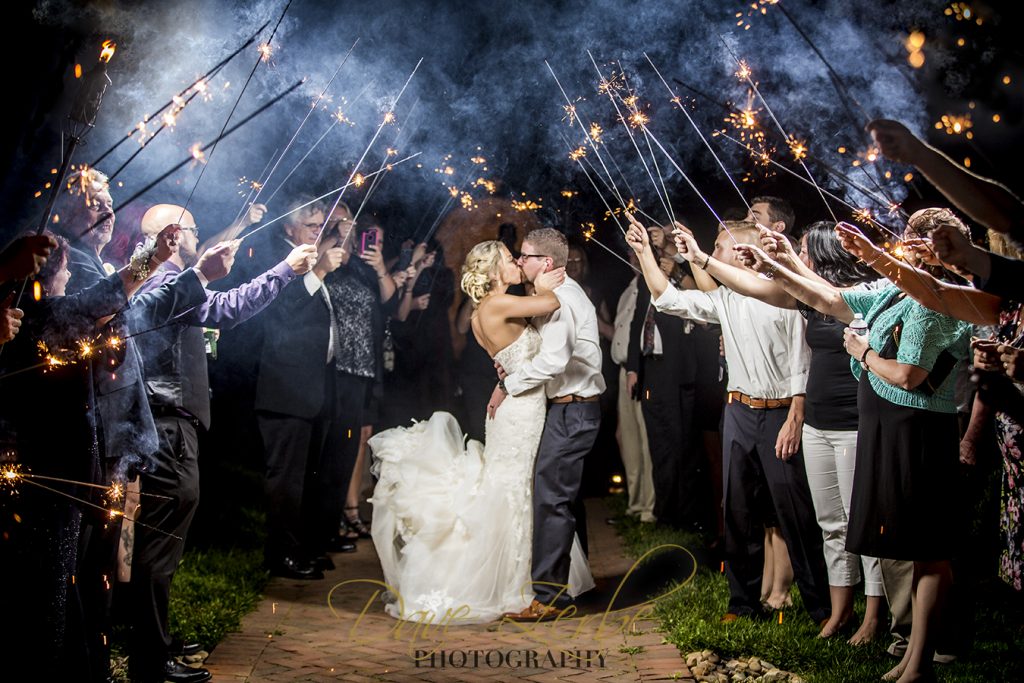 Sparkler sendoffs are a must-do for any late summer/early fall wedding in our opinion. It creates such a wondrous scene that can only be described as "magical". Denise and Ryan wanted have the best sparkler photo possible. We strongly believe we were able to capture a beautiful scene of the bride and groom here!
We really enjoyed our time with Denise and Ryan! We at Dave Zerbe wish them the very best in the many years to come.
---
Photographers:
Photographer: Wayne Becker
Photojournalist: Tami Bennecoff