We first met Elyse Branton and Cole Parkinson last November during their delightful Engagement Shoot where we captured some of the most stunning photographs. Working alongside the future Mr. and Mrs. Parkinson excited our team about the possibilities of their early fall wedding.
This wedding definitely did not disappoint as the day was completely flawless from start to finish. These are the types of wedding photographers dream about, and we were so honored to be able to get the opportunity.
The day began at the Staybridge Suites in Royersford as we met with Elyse and her bridesmaids to photograph their early morning preparations. Elyse was a confident bride and was surrounded by a cast of bridesmaids who were there to help her every step of the way.
Elyse dazzled in her truly one-of-a-kind wedding dress. No one could deny that the dress was made just for her.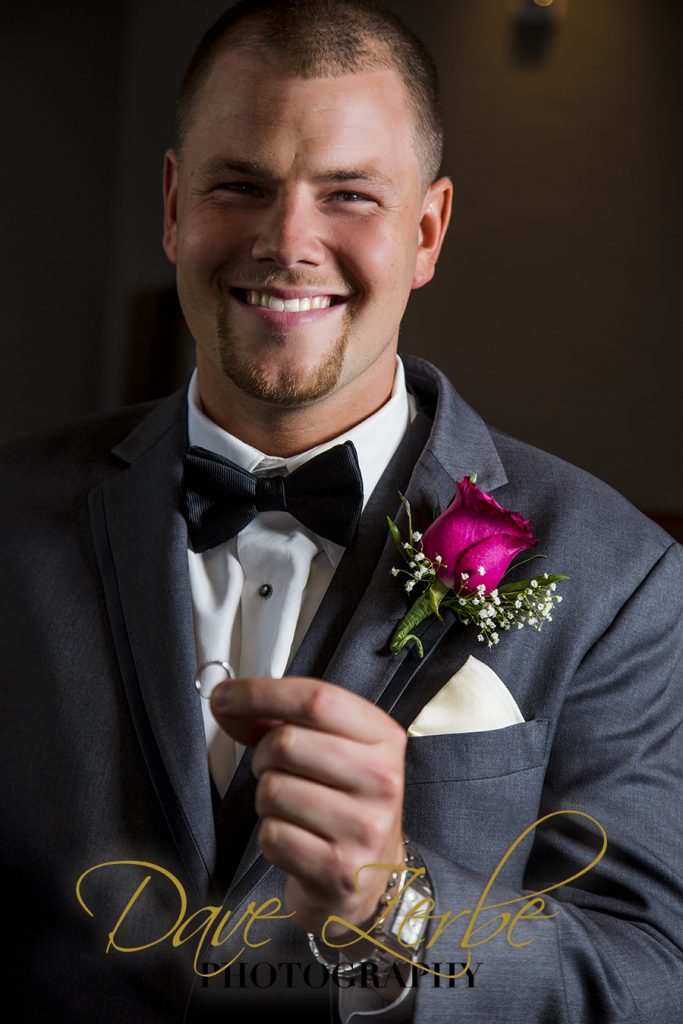 Not to be outdone, Cole and his groomsmen looked handsome in their suits. His bowtie was a stylish way to separate himself from the rest of the guys. It was quite fashionable!
There were plenty of things that we learned about Cole on this wedding day including his great relationship with his father George. George was Cole's best-man which was no surprise to anyone in the wedding party. The two have an unbreakable bond this was quite refreshing for a father-son combo.
The ceremony was held at the Blessed Theresa Parish in Limerick, PA. It was a beautiful catholic ceremony which lasted just under 45 minutes. However, time did not matter as Cole and Elyse starred into each other's eyes. Happiness filled the room and smiles were absolutely contagious.
This photo was an idea Elyse had before we left the church for the reception. The shining created from the sun glistening off the water fountain is a wonderful background to a couple who shined bright on their wedding day.
We made our way over to Westover Country Club where the couple's reception would be taking place. We also used this time to finish up with our formal photographs since the Country Club provided us with such beautiful scenery. This wedding party was a very light-hearted group as you may see from this photo!
Once we finished our work with the wedding party they headed to cocktail hour and we were able to have some one on one time with Elyse and Cole. We were limited in where we could go, but were able capture lovely photographs.
As the sun set and day slowly began to transition to night, we had an exciting opportunity to photograph the couple. It was a grand way to end our formal photographs.
The reception began with one of the loudest introductions we have ever been a part of before. Elyse and Cole's guests were loud and ready to part, which created such an amazing atmosphere.
Another thing we found out about Cole on this evening was his compassion. Cole is a true kind-hearted person who would do anything for anyone. He is a true gentleman with a great soul.
Okay, let's talk about the cake cutting to end all cake cuttings. It's hard to express in words some of the faces that we saw during this moment in the evening but things got interesting. Elyse and Cole had never cut a wedding cake before and were very confused by the whole scenario. As it was explained to them it still didn't seem to click, but they went for it anyway. What ensued was a terrific ensemble of facial expressions that can only be described as a confusing look. After they cut out the biggest piece of wedding cake ever, Cole yelled loud while throwing his hands up in the air in triumph. It was quite an exhilarating moment to say the least.
After the cake cutting was finished, the dance floor opened up with Cole and Elyse dancing the rest of their night away. The reception had a club style atmosphere which made it a tremendous evening.
We had an exceptional day photographing with Cole and Elyse Parkinson. They were accommodating throughout the day making our jobs quite simple. We thank them as well as their families and friends for a wonderful day filled with amazing photography. We look forward to working with everyone again in the near future!
---
Photographers:
Photographer: Wayne Becker
Photojournalist: Tami Bennecoff
Photographer's Assistant: Chad Zerbe