It's always disheartening to wake up on a wedding day knowing you're not going to have clear skies. With multiple photo ideas eliminated from your options, it becomes even harder to capture amazing wedding images.
But one thing I've learned over the past few years is to work with the circumstances you're given. It's a lesson that was put to the test on Miriam Krzton and Jarrad Hedes' wedding day.
I had the opportunity to work with this couple on their engagement shoot in June, where I learned that they enjoy prompted reality photography and wanted to stray away from the typical kissing photo. This information was very important for their wedding day; and without knowing this beforehand, I wouldn't have been able to truly capture the images they loved the most.
I started the day by meeting with the bride, Miriam, who was preparing for her wedding inside the couples' home just outside of Palmerton. Her makeup artist, Beauty by Storm, did a fabulous job giving our wedding party only the best!
Even though time wasn't on our side as the bride got ready, we were able to capture some beautiful photos. Her dress and jewelry worked together perfectly to create a wonderful look for the camera.
Miriam's daughter Sofia soon joined her in the room so they could celebrate the beginning of the big day together. It is always heartwarming seeing a mother and daughter in this moment.
Before long, it was time to meet Jarrad at Sacred Heart Church in Palmerton, the stunning site of our ceremony. The groom's excitement was palpable and and couldn't wait to see him marry his long-time love interest.
As their ceremony was underway, it was truly magical to watch Miriam and Jarrad hold eye contact the entire time. Their love for one another was very beautiful to behold. As they kissed for the first time as husband and wife, I couldn't have been happier for this wonderful couple.
As the husband and wife walked out of the ceremony, I was able to capture their guests greeting them with bubbles that were given as favors at the beginning of the day. These moments are always a lot of fun to shoot!
Miriam shared a lot of great photo ideas with me a few days before the wedding, which really helped me get an even better idea of what the bride was looking for. We took some time to capture a few of these moments after the ceremony.
After we finished at the church, it was time to head over to our reception venue, Hideaway Hills Golf Club. Hideaway is an incredible venue with magnificent vistas and a plethora of great photography backgrounds. It become evident very quickly (even with the mist-like rain that had been falling all day) that we were going to get absolutely perfect wedding images.
One idea Miriam had suggested was photographing the wedding bands on some golf tees. The wet ground made this image a challenge to complete, but it was fun to complete the feat and capture a gorgeous photo.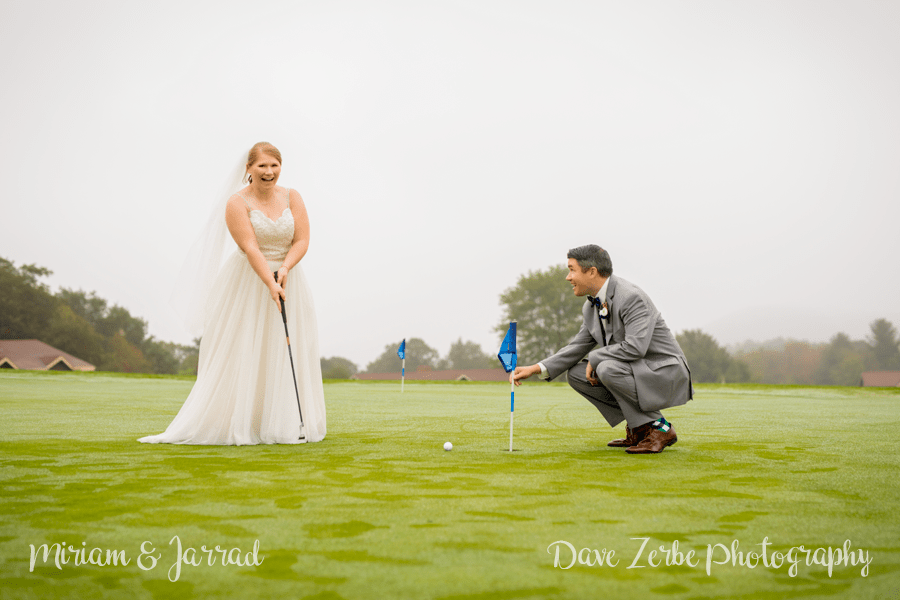 When we finished taking our formal photos, I was extremely proud of the effort our wedding couple put into the the shoot. Even though it is disappointing to not have a sunny day for your wedding photos, they did whatever they could to still get amazing images.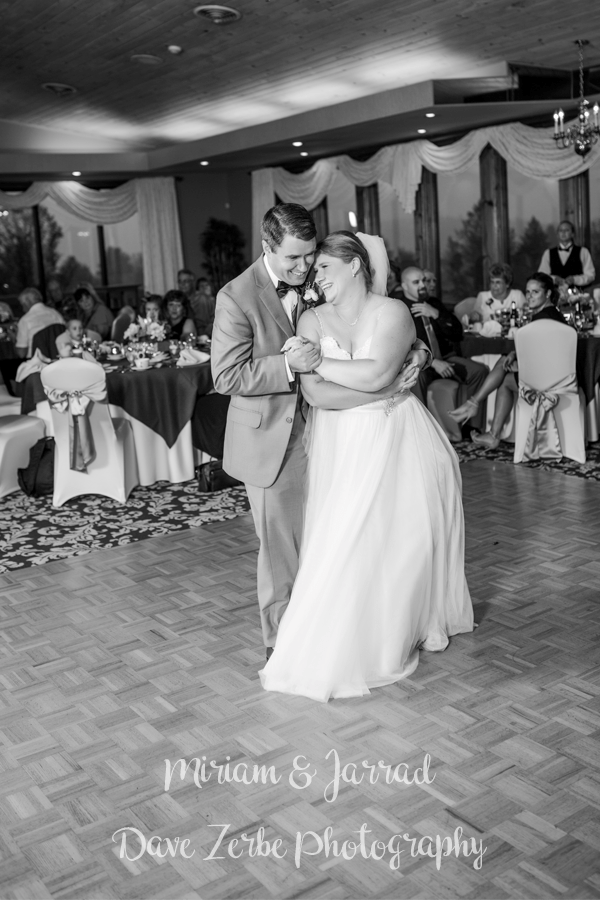 The reception soon began inside Hideaway Hills' ballroom. Miriam and Jarrad entered to a loud roar by their guests. They followed their entrance up with their first dance as husband and wife. As they glided around the dance floor, I noticed their pure joy and happiness in this moment.
As they evening progressed, Miriam and Jarrad had the time of their lives with their guests. I was very happy to be a part of this experience with them. To end the night, we took them outside to the fountain that is right outside the venue. It was a great way to end a wonderful day!
I would like to send a special thank you to our wedding couple and their family. I can't wait to continue working with them in the future!
---
Photographers:
Wayne Becker
Liz Huyett
Written By:
Wayne Becker
Edited By:
Lani Panico