Most people look back reflectively on their high school sweethearts; for Katie Coutts and Chad LeVan they will forever look across the table at theirs during dinner every night. From being together every day in high school to attending different colleges these two have stood by one another from the very start. It is quite rare now-a-days to hear a story like theirs as only 2% of high school sweethearts actually wed.
Funny enough, I attended high school with both Katie and Chad and watched as their love blossom around the Fleetwood High halls. When I saw they booked their wedding with us, I was super excited to finally witness these high school sweethearts succeed in love.
We started at the brand new Hampton Inn in Warrington where Katie was preparing for her wedding day. It was very apparent how excited she was to get married to Chad. Though rain was scheduled, her confidence level was high that things would work out.
Before she entered into her wedding dress, Katie exchanged gifts with her sister Megan and friend Emily. What ensued was a ton of laughs and a few tears.
Her gorgeous Sweetheart's Bridal Dress along with all of her jewelry really worked together to create pure beauty.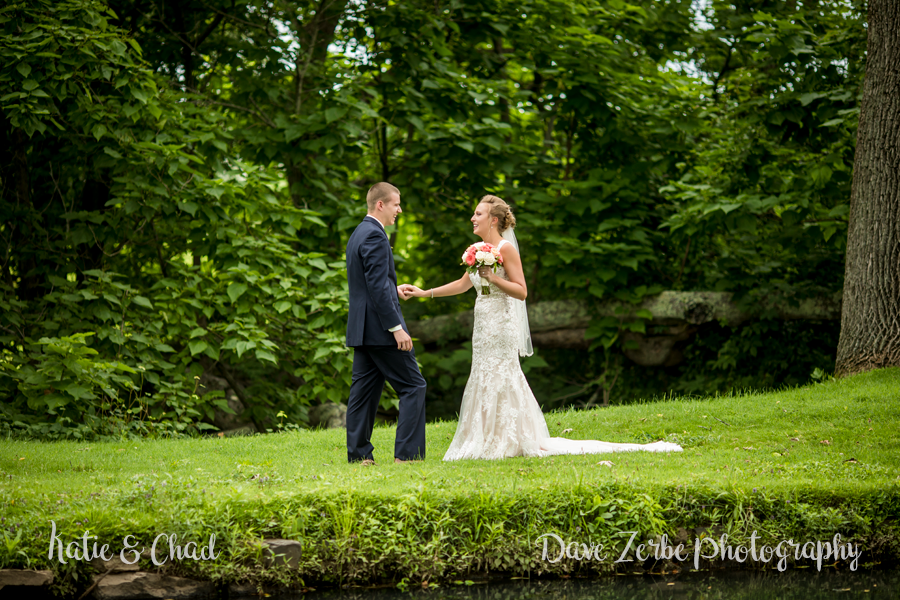 After capturing some beautiful portraits of Katie, we drove over to Graeme Park a historical location that sports stunning architecture and backgrounds. It was the perfect place for Katie and Chad's first look. I set Chad up next to the reflecting pond. It was quite evident how happy he was to finally have that moment with Katie. Once their eyes finally met, it was as if time stood still. This was by far, one of the most emotional first looks I've ever witnessed as a photographer.
It is a blessing to have a couple so interested in creating amazing photographs. It not only makes my job easier, but helps the photos look even better!
I was truly amazed how natural and comfortable these two were in front of the camera. Those high school selfies together must have paid off!
With choosing to do the first look, it gave us all the time in the world to create other creative photographs. Instead of rushing through everything, we were able to take our time and make everything as perfect as possible.
Because of the heat, we ended a bit early so we could head over to Warrington Country Club. Upon our arrival, Katie and Chad exchanged gifts and letters to one another. This moment was private, and really showcased the love that these two hold for each other.
I love first looks between Bride and Father. They're always so emotional!
Chad is not the most photogenic groom you'll meet. However, he sure didn't act like it on this day.
After some time, the ceremony began at the outdoor garden. I asked Katie after if walking down the aisle was still magical and her answer (with tears in her eyes) was a resounding, "yes".
The ceremony itself was brief with Reverend Kent Foster, who did a truly phenomenal job, guiding these two through it all. After 20 minutes, Katie and Chad were husband and wife.
Another great perk to the first look is having ease of mind and a chance to relax with your guests after the ceremony is complete. If this wedding was done traditionally, we would have took the cocktail hours' time to do all of the formal photographs. Our couple instead went and enjoyed time with their wedding guests.
The reception began soon as Katie and Chad entered the room to thunderous applause. The couple entered and immediately transitioned into their first dance. After a minute or so, both requested everyone to slow dance the rest of the song with them. I loved this moment!
Toasts followed and since the maid of honor and best man were related to both Katie and Chad respectively, there were a ton of stories told and laughs to be had.
Chad's dad had also spoke and really talked up his son and daughter-in-law. It was really amazing to hear about how much adversity this couple faced to get to where they are today.
The rest of the night went by in the blink of eye. Most the night was dancing, but there was a brief cake cutting sprinkled in.
To end the night, Katie and Chad wanted to do some photos with the night sky. However, due to clouds from rain that had moved in, we instead did some interesting backlit photography outside the Warrington. This was a great way to end a literally perfect wedding day.
I cannot thank Katie and Chad enough for giving me the opportunity to photograph their beautiful wedding day. I look forward to future opportunities to work with these two and their families again.
---
Photographers:
Wayne Becker
Tami Bennecoff
Written By:
Wayne Becker
Edited By:
Alexis Jenofsky