True love is one of the most beautiful actions to witness.
On Friday, June 29th, I had the opportunity to witness Julie Kuska and Tim Guss' love grow even larger for one another.
Chad and I drove down to the newly renovated Desmond Hotel in Malvern. Both of us had never been to this location and were eager to scout out areas to capture some wonderful photos. We had no doubts upon arrival!
With our arrival, I began making my way around the building scouting locations, I heard someone yell "Hey Wayne!" When I looked up, I noticed it was Tim. Let me tell you, he was rocking a massive smile. That was when I knew he was beyond excited for his special day.
Our bride was preparing for the wedding in a suite on the third floor. When we got to the suite, Iron Roots Salon was in the process of completing Julie's makeup. I must say, Iron Roots did an amazing job on all the ladies. It lasted through the excess heat all day!
With the help from her mom and sister, Julie put on her beautiful wedding dress. She looked completely stunning in every photo we took of her. The dress was truly made for her.
I later moved upstairs to Tim's room. He was very relaxed, yet still eager to see Julie.
Their first look took place outside of the Desmond. Julie made the decision to share this moment with her entire wedding party and family. It was quite amazing to watch their friends and families reaction. There was lots awe moments for sure!
As always, the first look leaves us with plenty of time to complete all of our formal photographs prior to the ceremony.  We continued to capture beautiful formals around the grounds of the Desmond. Through the excessive heat, Julie and Tim worked with us to create beautiful photographs!
After about 15 minutes, we moved inside and finished all of the photography formalities. Julie noted that it was a huge relief to finish all of the formal photographs before the ceremony. All that was left was saying "I-Do" with a celebration to follow.
The ceremony began just after 5pm outside the Desmond. As Julie walked down the aisle you could see how happy she was to finally marry her man.
Before you knew it, these two were walking down the aisle as a married couple. We were so happy to be able to capture this wonderful ceremony. After eight years of dating, they could finally call each other husband and wife.
For a brief moment after the ceremony, I pulled Julie and Tim to the side for a quick photo. The entire time, they were laughing and giggling. I couldn't help but feel so happy for these two. I felt as if I had known him the entire eight years of their life together!
The couple was able to be a part of their entire cocktail hour which gave them time to talk to all of their wedding guests. It's one of the bigger perks when it comes to doing a first look. Before you knew it though, the guests were being escorted into the reception hall for the beginning of the celebration!  Right away, the couple's wedding band Sound Investment, took center stage and began playing some fun music!
Julie and Tim made their entrance, and led directly into their first dance. It was beautiful to watch them glide around the dance floor enjoying every moment.
The rest of the formal festivities all took place smoothly. Julie's father gave a beautiful toast to his daughter and new son-in-law, and then dinner was served. After dinner, we transitioned into the parent dances. Both were lovely moments for the respective parents and we loved the emotion. Julie and Tim then cut their wedding cake feeding it to each other quite nicely. They finished their formalities with the garter and bouquet tosses which are always a fun time of the night.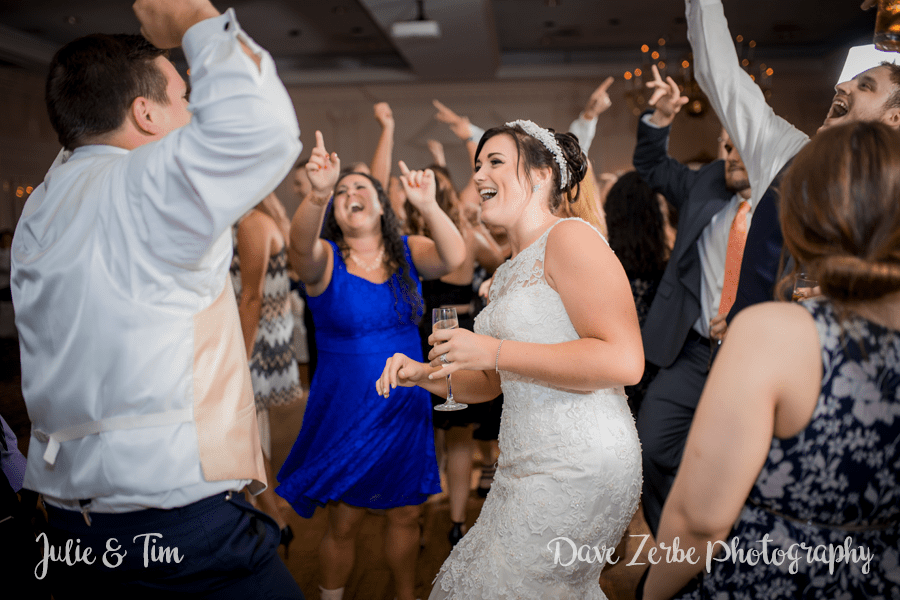 The band continued to play great music and really knew how to get the party started. I couldn't help but watch Julie and Tim as they were enjoying every moment while dancing the night away.
This reception finished with some fun Polish traditions. It was crazy to watch Tim try and gain access to Julie; but he was definitely successful in proving his love for his bride.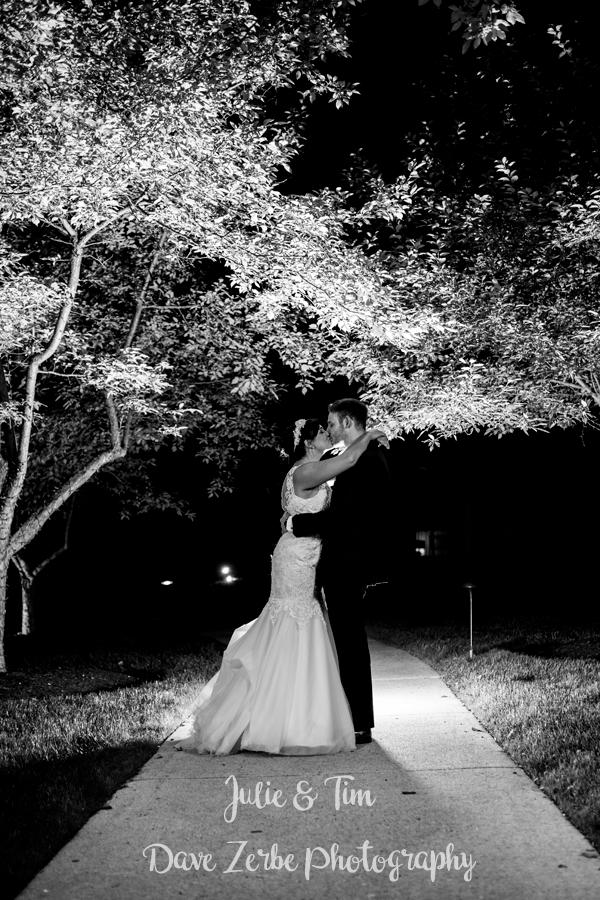 At the end, we took the couple outside for a quick nighttime photo. It was a great way to end a very fun wedding. I was so honored to be able to work with Julie and Tim to capture their wedding day and I can't wait to work with them more in the future
---
Photographers:
Wayne Becker
Chad Zerbe
Written By:
Wayne Becker
Edited By: 
Alexis Jenofsky