In the 2003 film, Matrix Revolutions, Neo talks with Rama Kandra who speaks of love philosophically.
"[Love] is a word, what matters is the connection the word implies."
I have a strong belief that though love is important, your connection with your partner is the glue that holds your relationship together.
When I think of this quote, I think about Jenny Fabian and Robert Ganter. Their connection to each other is truly powerful and it shows in their wedding photography.
Their wedding took place at the Double Tree Hotel in Reading which is one of my favorite places to photograph in town. Things started super quickly with our arrival and it wasn't long before their first look took place inside the hotel. Their moment here was a prime example how their connection truly shines.
The outdoor photographs took place at Janssen Conference Center. The biggest issue we faced the entire day was the heat. The forecasted index was 106 degrees and the forecast didn't lie. We did everything we could to keep our wedding party comfortable. Luckily, Jenny had her car close by with the air conditioning on blast to keep herself cool. Overall, everything turned out beautiful thanks to Jenny and Rob's amazing connection.
The ceremony was brief yet beautiful and showcased the couple's love beautifully. After family portraits and a cocktail hour it was time for the reception! It wasn't surprising that Rob and Jenny elected to choreograph their first dance together as husband and wife.
I loved their reception celebration as it was a true party! Jenny and Rob both tore up the dance floor and Rob even had a chance to pull out an air guitar towards the end of the night.
This ring is literally perfect for photographs!
I was really feeling the black & white editing on these files. It's just such a timeless look.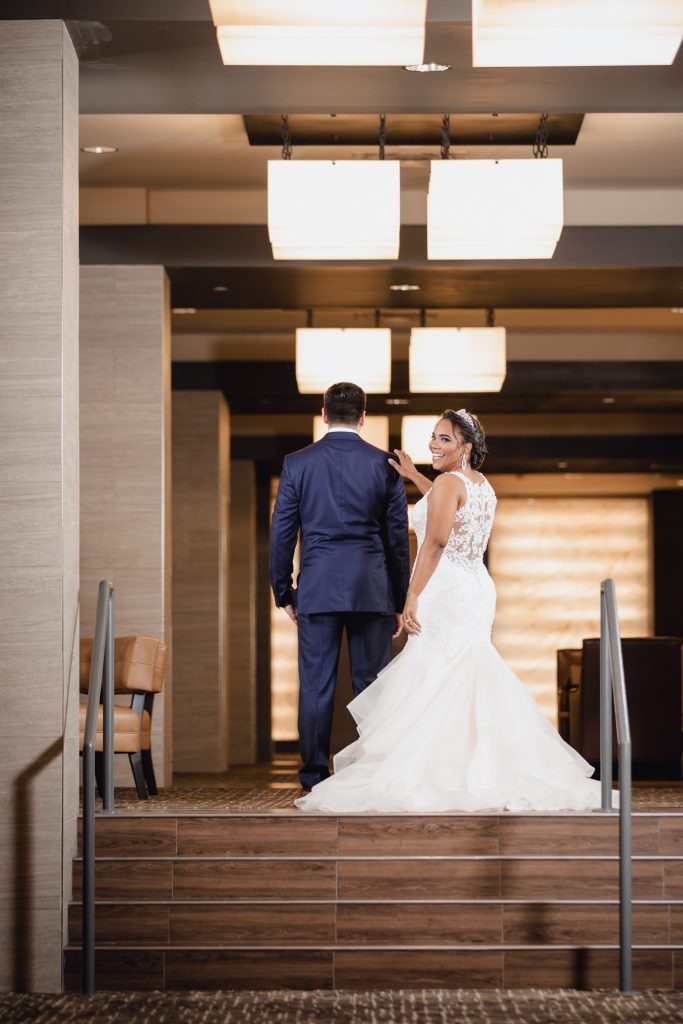 I really enjoy first looks. They are so beautiful to witness!
We had a lot of fun with this!
This was a very beautiful ceremony! The DoubleTree did a phenomenal job with the set up.
The decor for the reception was gorgeous!
Makin' it rain!
Rob would be the first one to tell you he's not known for his dancing ability. However, on this night, nothing was stopping from tearing up the dance floor.
I'm very confident that these two newlyweds will have an amazing marriage due to their amazing connection. I can't wait to see what the future has to offer for them!
---
Photography By:
Wayne Becker
Marissa Slaby
Written By:
Wayne Becker
Edited By:
Alexis Jenofsky